Who are the AITS?
The Australian Institute of Theatresports (AITS) is an educational organization that provides meaningful learning experiences to children, teenagers and adults through our improvisation and drama workshops.
We have been active since 1989 and over the past 25+ years we have taught thousands of students across Perth, wider Western Australia, Australia and Asia.
Our Mission
To provide young people with the tools to become clear communicators, creative thinkers and confident individuals through our improvisation educational workshops.
Our Story
The Australian Institute of Theatresports® was founded in 1989 when directors Michael and Angela Sanderson-Green identified a need for creative learning opportunities for people of all ages.
AITS created an environment where individuals can learn and grow in a safe but challenging way.
We decided to develop on a program that would promote meaningful life skills in a fun learning environment. Directors Angela and Michael Sanderson-Green used their background in Occupational Therapy and Improvised Acting to develop a set of AITS Improvised Acting programs.
Our love of drama and belief that everyone can achieve greatness motivated us to design and deliver these programs to young people ranging in spectrums of abilities and cultural backgrounds.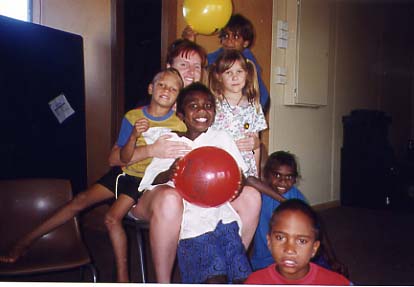 What our teachers have to say…
"Teaching teenagers the art of improvisation can be a struggle, however once you see them 'get' it, seeing the impact on their whole well-being is immensely rewarding"
— Poppin Sanderson-Green, Director
Micheal Sanderson-Green
Michael is a versatile and intuitive improvisation teacher. His positivity and insightful understandings of human behaviour enable him to change the energy of the room and keep students engaged in learning.
Michael is a founder, director and facilitator at AITS.
Poppin Sanderson-Green
Poppin has worked in a number of roles including caregiving, hospitality and administration.
Her passion is teaching teenagers and young people the art of improvisation. She particularly enjoys that age group as they tend to be more challenging, they question the 'why', and when you've gotten through to them, you really see the difference.
She is passionate about providing children and teenagers them a space to be themselves and be free/ express themselves
Poppin is a director and facilitator at AITS.
Angela Sanderson-Green
Angela is your port of call when you contact us!
She will guide you to the right course for your needs.
She taught in the field for many years but finds her many years of experience better suited to understanding your school's needs and devising a course best suited to your goals.
Angela is a founder, director and administrator of AITS.